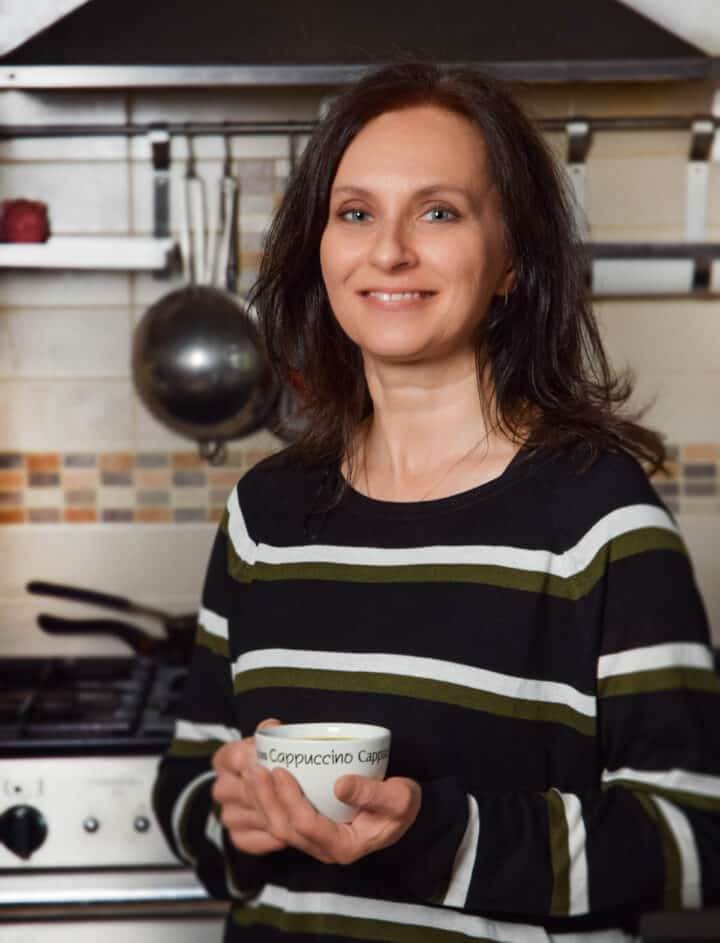 Hi, I am Monika, welcome to Everyday Healthy Recipes! This blog is all about simple recipes with a healthy twist, old classics with a modern take, and an occasional Polish dish thrown into the mix - all easy to make, healthy and delicious, perfect for everyday cooking.
Many of my dishes are vegetarian and/or vegan, but some contain meat (mainly poultry) and fish - so it's a good flexitarian selection.
Some of my recipes are gluten free and/or dairy free and can be easily found using the 'Search' box.
Take a look at my Recipe Categories and have a browse to get a better idea of my culinary style.
I bit about my culinary roots
My childhood culinary memories revolve around meat and potatoes. I grew up in Poland where food choices at the time were limited. Bananas and oranges were a rarity available mainly at Christmas. My memories, however, are good ones thanks to my mum's resourcefulness and cooking talent. The food may not always have been very healthy but always tasted great. Given the fantastic variety of foods available today, both in Poland and England, where I now live, creating tasty as well as nutritious meals has never been easier.
I do not, however, endorse any weight loss programs - I believe in making healthy choices and having a balanced diet which can bring sustainable, long term benefits.
Polish Potato and Cheese Pierogi (Ruskie) Dumplings
Some years ago I lived in Canada, where I developed a passion for muffins. Whether sweet or savoury, they can be the highlight of your breakfast or a healthy snack between meals. When it comes to ingredients the possibilities are endless and so muffin recipes will feature prominently in my posts.
I put a healthy twist on ALL my recipes
I use a lot of fresh vegetables and herbs as well as quinoa and other wholegrain ingredients. I use little fat and sugar even in desserts. I try not to use obscure and expensive ingredients so you'll be able to find all you need in most supermarkets (perhaps making an occasional trip to a vegetarian or international food shop, which offers a wider selection of lentils and beans). My recipes are quick and simple, perfect for busy adults and fussy children.
Enjoy!
Places Everyday Healthy Recipes has been featured
Buzz Feed, Huffington Post, Edible Crafts, Huffington Post (4 recipes), Pure Wow (2 recipes), Pure Wow (Cauliflower), Pure Wow (Turkey), Yahoo