Flavoured yogurt in 3 easy delicious combinations: mocha, raspberry, prune. Perfect as a low carb breakfast or healthy snack anytime. Making flavored yogurt is easier than you think!
Today on the blog I am sharing not one but 3 recipes! I will show you how to make flavoured yogurt using 3 delicious combinations. It's so easy and fun to do you'll never want to eat ready made flavoured yogurt again!
Yogurt makes a convenient and delicious snack, especially if you enjoy it with toppings such as fruit, nuts or a drizzle of maple syrup. When it comes to flavoured yogurt there are so many varieties it can be difficult to decide which is healthy and which is more dessert than yogurt. Because despite boasting high nutritional content many yogurts contain lots of sugar. And as for the taste, well, you can't really taste fresh fruit in the fruity ones. At least that's always been my perception.
The good news is that it's super easy to flavour plain yogurt and create exactly the kind of taste you want.
Plus you are in control of the sugar content of your homemade flavoured yogurt! You may not have to add any sugar (or syrup) at all.
You can make a large batch, keep it refrigerated and it will last you for a few days.
And plain yogurt with lots of toppings, although admittedly very tasty, is really not the same as flavoured yogurt with lots of toppings. The flavoured one is so much more delicious! Give it a try↓
Equipment you'll need
Measuring cup and spoons
3 mixing bowls
Saucepan and spoon
Blender
How to Make Flavoured Yogurt 3 Ways (Mocha, Raspberry, Prune)
1. Mocha Yogurt
Kick start your day with this energising coffee and cocoa infused yogurt! Top with nuts, seeds. fresh fruit or granola to make it a more satisfying breakfast. Only 5 ingredients and ready in 3 minutes!
If mocha breakfast is your thing try also my mocha overnight oats recipe. You may also like mocha quinoa energy balls. Check out also this collection of 27 everyday healthy cacao recipes!
Ingredients
1 cup thick yogurt/Skyr
1 tsp instant coffee granules
1 tbsp cocoa or cacao powder
2 tbsp maple syrup
1 tsp warm water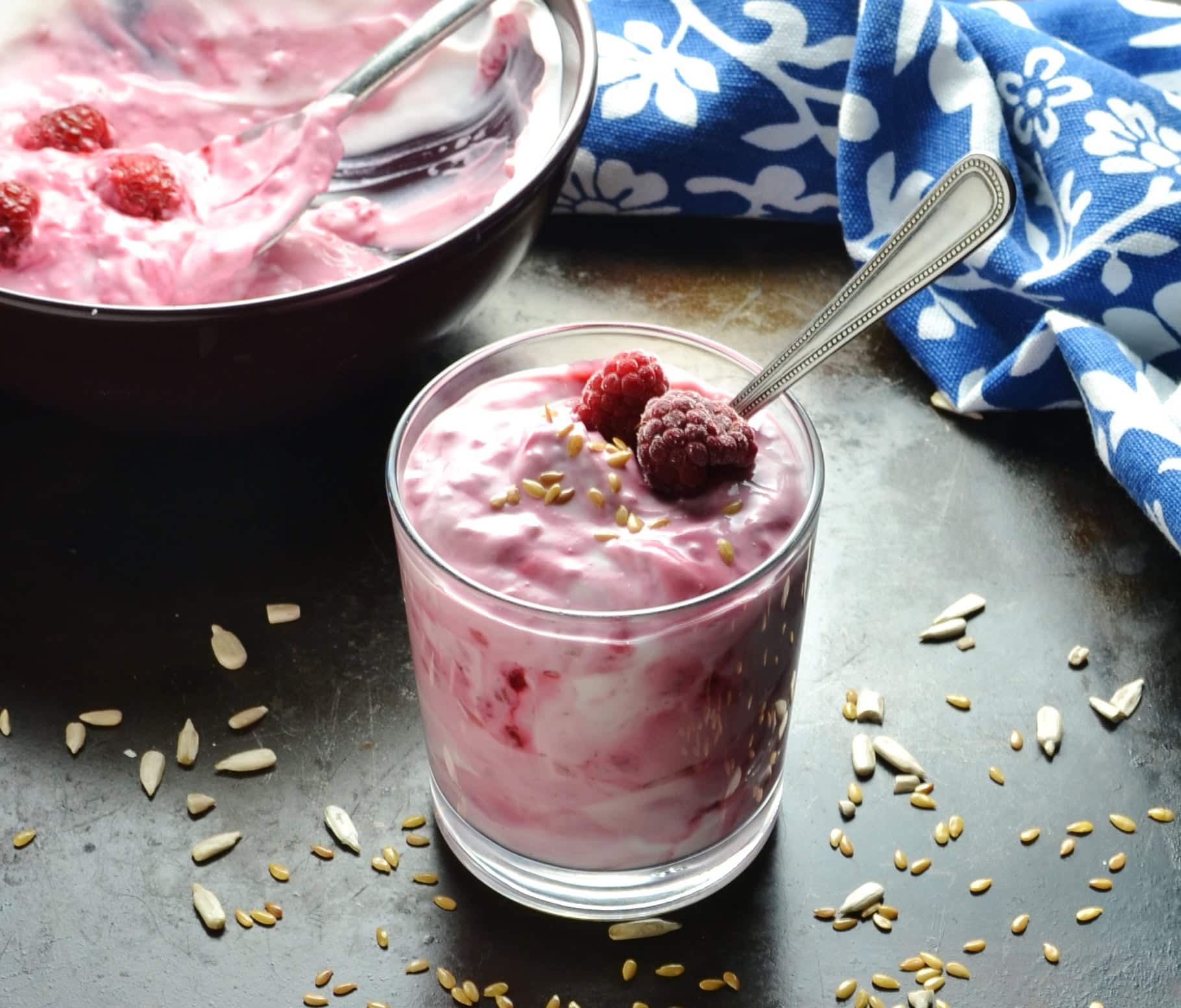 2. Raspberry Yogurt
This fruity yogurt can be made using fresh or frozen fruit so it's an all season recipe. Top with more fruit (plus nuts and/or granola) for a more satisfying snack. I cooked the fruit briefly (4 minutes) to reduce its water content before combining with the yogurt. This is necessary so the yogurt doesn't become a smoothie!
I used a similar method in my cherry overnight oats with cocoa recipe, which you might also like.
Ingredients
1 cup thick yogurt/Skyr
⅔ cup raspberries (fresh or frozen)
1 tbsp maple syrup
3. Prune Yogurt
This 2-ingredient flavoured yogurt recipe is full of goodness and does not contain any added sugar. Perfect for breakfast or as a snack anytime. Top with granola and enjoy as yogurt parfait!
Ingredients
1 cup thick yogurt/Skyr
⅔ cup prunes, pitted
Which is the best yogurt for you?
The simple answer is: low in sugar and fat. Daily Mail published findings of a study comparing various types of yogurt, which concluded that it is best to buy low sugar and fat yogurt and add your own toppings to it.
Go for yogurts with added probiotics, which have additional health benefits. Low fat and low sugar Greek yogurt is a good choice. But so are Skyr and quark. Although you may not love these products on their own (I personally find them a bit acidic) they work great in flavoured yogurt recipes.
Keep in touch!
Follow me on Facebook, Instagram and Twitter for regular recipe updates! Or you could subscribe to this blog and receive all my latest recipes right into your mailbox!
Let me know what you thought about my flavoured yogurt recipe ideas. Which is your favourite?
Check out also this collection of easy vegetable breakfast recipes.
Recipe
Flavoured Yogurt 3 Ways (Mocha, Raspberry, Prune)
3 easy, healthy and delicious flavored yogurt recipes you can enjoy for breakfast or as a snack anytime.
Print
Pin
Rate
Ingredients
Mocha Yogurt
1

cup

(

225

g

)

thick yogurt/Skyr

1

teaspoon

instant coffee granules

1

tablespoon

cocoa or cacao powder

2

tablespoons

maple syrup

1

teaspoon

warm water
Raspberry Yogurt
1

cup

(

225

g

)

thick yogurt/Skyr

⅔

cup

(

90

g

)

raspberries

fresh or frozen

1

tablespoon

maple syrup
Prune Yogurt
1

cup

(

225

g

)

thick yogurt/Skyr

⅔

cup

(

115

g

)

prunes, pitted
Instructions
To make the mocha yogurt dissolve the coffee granules in 1 teaspoon of warm water. Add the cocoa or cacao powders, maple syrup, 2 tablespoons of the yogurt and stir thoroughly until the mixture is smooth. Combine with the rest of the yogurt.

To make the raspberry yogurt in a saucepan combine the raspberries with the maple syrup and cook over a fairly high heat for about 3 minutes stirring all the time. Do not let the mixture become too thick. Leave to cool for 5 minutes, then stir into the yogurt.

To make the prune yogurt combine the prunes with the yogurt and blitz until smooth.
Notes
Flavoured yogurt can be kept in the fridge for several days.  Serve with your favourite toppings -nuts, seeds, fresh fruit, granola, coconut flakes etc.
Nutrition
Serving:
1
serving
|
Calories:
152
kcal
|
Carbohydrates:
31
g
|
Protein:
8
g
|
Fat:
1
g
|
Saturated Fat:
1
g
|
Cholesterol:
2
mg
|
Sodium:
96
mg
|
Potassium:
516
mg
|
Fiber:
3
g
|
Sugar:
23
g
|
Vitamin A:
151
IU
|
Vitamin C:
5
mg
|
Calcium:
266
mg
|
Iron:
1
mg
*Nutritional information is automatically generated and should be considered as an estimate.
**A note about baking: If using a fan-assisted oven refer to your appliance's instructions and adjust the temperature accordingly.