This post contains step by step instructions for making a 3-ingredient simple white sauce. Use it as a base for other sauces, in casseroles, stews, mac and cheese and much more. The post provides links to easy white sauce recipes.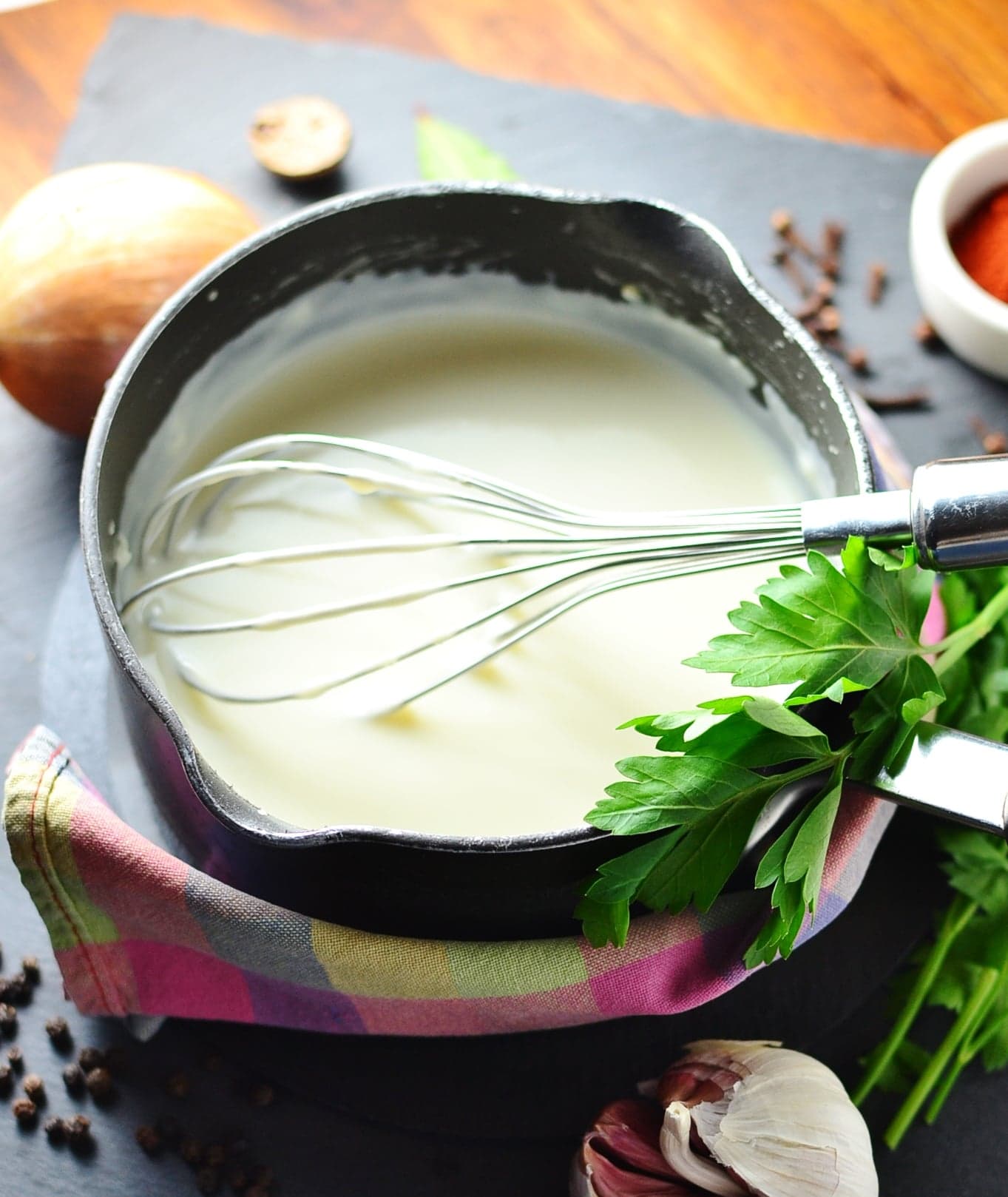 Today I am going to show you how to make a 3-ingredient simple white sauce.
Whether Italian or French (its origin can be traced to both countries though the name 'bechamel', as it's also called, suggests it's French but let's not worry about that) the basic white sauce and its various adaptations are popular in many cuisines.
You can use this sauce as a thickener, it also keeps the other ingredients moist, enhances flavour and adds richness. (Without necessarily too many calories).
Equipment you'll need
Kitchen scale/measuring cup
Medium size saucepan and whisk
How to make a 3-ingredient simple white sauce
This simple white sauce recipe contains only 3 ingredients: butter, flour and milk (which, when combined, can only produce one colour - white!). And the only 'tricky' bit to making it successfully is knowing which ingredient comes first, second and third. Because if you use the wrong sequence your sauce is likely to be lumpy.
So it's important to start off with the butter, then add the flour, then the milk. In that order!
1.In a saucepan gently melt the butter, add the flour and whisk in until a smooth, thick paste forms.
2. Add some of the milk, increase the heat and whisk until the mixture starts to thicken. Gradually pour in the rest of the milk (or some of it if you want quite a thick sauce) and continue whisking until the sauce thickens again and starts bubbling up. Simmer for 3 more minutes stirring frequently. Your white sauce is ready.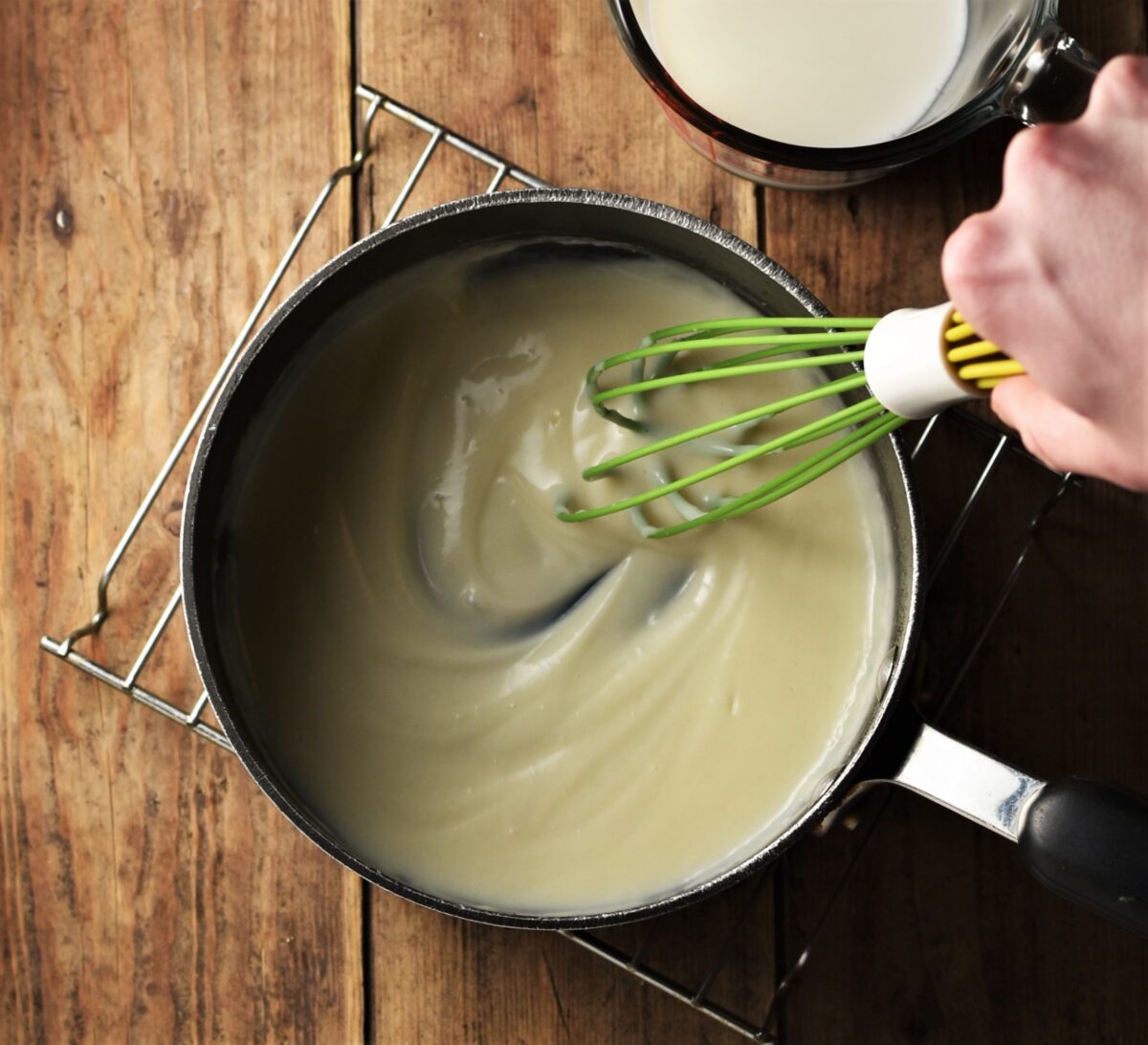 Seasoning is optional in this recipe and depends on how you are going to use it. I recommend adding some seasoning if you aren't planning to add any other ingredients to the sauce (such as spices or herbs).
Versatility
Many white sauce recipes recommend infusing the milk prior to making the sauce by adding raw onion, nutmeg, fresh parsley, peppercorns, cloves or other ingredients. The mixture is then brought to simmering point, strained and the flavourings discarded.
I think this method works well in many recipes but it's not always necessary. You can always add herbs and spices to the sauce itself. (Bear in mind that this, however, might affect the colour of the sauce). My aim is to show you the right technique (one that's always worked for me) of making a simple bechamel. The choice of any additional ingredients is yours.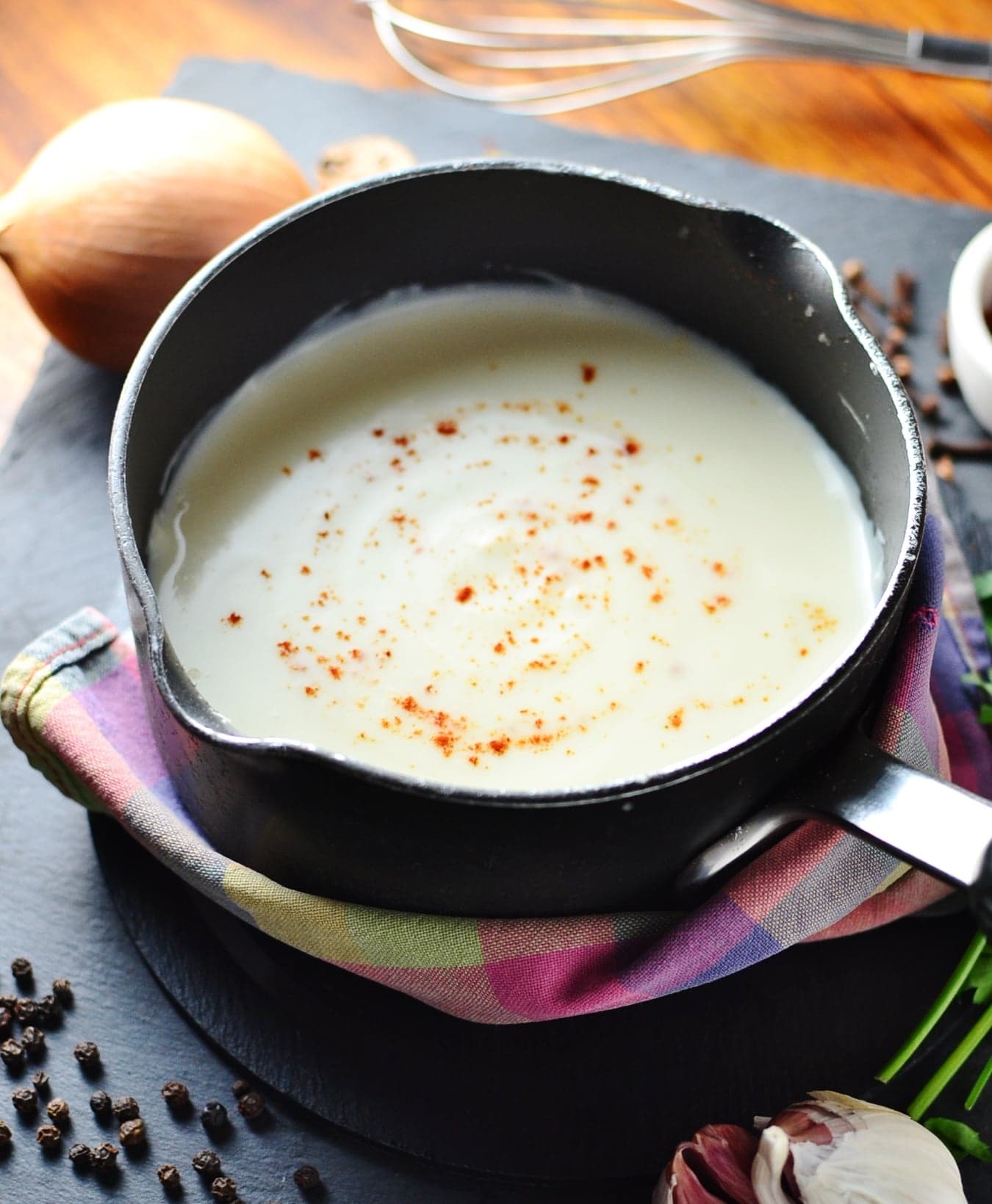 How to adapt bechamel - easy white sauce recipes
For example, in my turkey meatballs in white sauce I added mustard, white wine and a bit of fromage frais for a richer, creamier consistency.
This creamy spinach mac and cheese is a good example of how other ingredients can affect the appearance of this white pasta sauce. You guessed it, it's bright green!
In this buckwheat macaroni cheese recipe I added cream cheese and a bit of mustard to the sauce for sharpness.
My chicken and mushroom casserole contains another variation of the bechamel. I swapped butter for oil and added wine to the sauce but the basic method is the same.
This easy chicken in white sauce recipe contains a few additional ingredients for more flavour though the sauce comes together very quickly.
These are just a few examples of how you can make this basic white sauce recipe work for you. You can easily adapt it to suit your dish.
Check out ALL my recipes where I've used this simple white sauce.
Consistency of white sauce
The proportions in this simple white sauce recipe make a moderately thick sauce. Not too runny but not too thick either. If you need a runnier or thicker consistency simply add a little less or more flour (± 5 g). If you don't use your sauce straight away it may become too thick. Add a splash of milk/water and heat it up again whisking all the time.
*Note: It's essential that you use a whisk to make this sauce. If you use a spoon the sauce may end up a little lumpy.
Keep in touch!
If you make this simple white sauce recipe let me know in the comments below. I'd love to know how you flavoured it.
Follow me on Facebook, Instagram and Twitter for regular recipe updates! Or you could subscribe to this blog and receive all my latest recipes right into your mailbox!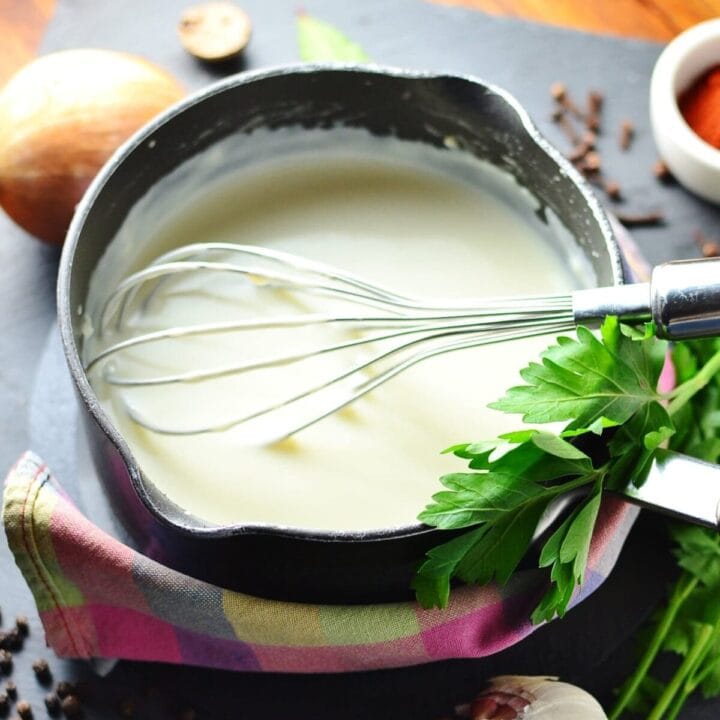 How To Make a 3-Ingredient Simple White Sauce
Step by step instructions on how to make a 3-ingredient simple white sauce - use it as a base for other sauces, in casseroles, stews, mac and cheese and much more.

Print
Pin
Rate
Ingredients
1½-1⅔

cups

(

370-400

ml

)

semi-skimmed milk

2

tablespoons

(

30

g

)

butter

2½

tablespoons

(

25

g

)

flour

Salt

and white pepper to taste (optional)
Instructions
In a saucepan melt the butter (on a low heat, taking care not to brown it). Add the flour and combine using a whisk. Once the mixture has thickened gradually add the milk stirring with the whisk all the time. You can increase the heat a little to speed things up, but whisk continuously to prevent lumps from forming and the sauce from sticking to the bottom of the pan.

Once all the milk has been added season and simmer gently for about 3 minutes, stirring all the time. If you don't use the sauce immediately it will thicken after a while. Just add a bit of milk/water when you are ready to use it and heat it up gently stirring all the time (you may have to adjust the seasoning too).
Notes
Use a whisk, rather than spoon, to make the sauce in order to ensure it's smooth.
Add the milk gradually whisking all the time.
Season according to preference - see suggestions in post.
Reheating: The sauce will thicken after a while so whisk in a bit of milk/water to loosen it when you reheat it. 
Nutrition
Serving:
1
serving
|
Calories:
82
kcal
|
Carbohydrates:
6
g
|
Protein:
3
g
|
Fat:
5
g
|
Saturated Fat:
3
g
|
Cholesterol:
16
mg
|
Sodium:
65
mg
|
Potassium:
86
mg
|
Fiber:
1
g
|
Sugar:
3
g
|
Vitamin A:
188
IU
|
Calcium:
74
mg
|
Iron:
1
mg
*Nutritional information is automatically generated and should be considered as an estimate.
**A note about baking: If using a fan-assisted oven refer to your appliance's instructions and adjust the temperature accordingly.