6 of the most popular pierogi recipes plus everything you need to know about making delicious pierogi dumplings from scratch, all in one place.
Pierogi (pronounced 'pyeroghee') in Poland are an institution. They accompany celebrations of all kinds, any gatherings involving food as well as simple family meals. What's really fascinating is that pierogi appeal to adults and children alike. There are pierogi bistros in Poland specialising in making all manner of pierogi from sweet to savoury, which is a good indication of just how popular they are.
What you need to know about the pierogi dough
Pierogi dough contains very few ingredients and is simple to make. The most traditional dough recipe is made using flour, water, a little butter and salt, but there are other ingredients you can use depending on preference and where you are from. These ingredients typically include eggs, cream cheese and sour cream.
I have made pierogi using various combinations of these ingredients and they can all be made successfully if certain conditions are met.
Here are some tips to guarantee 100% success every time:
Use ordinary all-purpose (plain) flour. Not bread flour or whole wheat flour.
You can start off combining the ingredients in a large bowl but I recommend most of the kneading on top of a flat surface.
Use very warm (or at least lukewarm) water and add it gradually as you bring the dough together and knead it.
The dough should not stick to your hands – if it does add a small amount of flour (not more than 1 teaspoon) and knead in. Try not to add too much flour as this might produce tough dumplings.
Once the dough has formed continue kneading it for several minutes (I usually knead it for about 6 minutes) until it starts to become smooth and soft. Soft dough will produce soft pierogi.
Let the dough rest for about 20 minutes before making pierogi.
Divide it into 2-3 parts and keep covered (with a bowl or cling film) to prevent drying as you make each batch.
You can refrigerate leftover dough (wrapped in cling film) for up to a day. Bring up to room temperature before rolling out.
What fillings can be used to make pierogi
The most popular filling consists of mashed potato and Polish cottage cheese ('twarog'). In North America these pierogi tend to be made using potatoes and cheddar cheese (or similar). Another popular ingredient is sauerkraut. There are also meat pierogi and 'sweet' pierogi with fruit (such as blueberries and strawberries) often made in the summer months, as well as pierogi made with sweetened 'twarog' cheese.
Do you always have to boil pierogi
Yes, you do! The filling usually contains ready-to-eat ingredients but the dough needs to cook and the best way to do it is by simply boiling pierogi in a large pot of salted water. But this only takes a few minutes to do! Once all the dumplings have come up to the top they need to simmer for only about 4 minutes.
You can either serve pierogi straight from the pot or fry them first in a little oil or butter.
What to serve pierogi with
Traditional toppings include fried bacon, onion, sour cream, butter and sugar (if your pierogi have a sweet filling). This is how they always have been and still are served in Poland.
If you would like to serve pierogi as part of a meal they are delicious with steamed broccoli, sautéed cabbage (unless your pierogi contain sauerkraut) and creamy coleslaw. Also instead of using ordinary sour cream try serving pierogi with ranch dressing!
How to freeze pierogi
You can freeze raw as well as cooked pierogi. To freeze raw pierogi dust them with a little flour (on both sides) and place on top of a tray or plate in a single layer (they must not touch each other). Freeze for 4 hours then transfer the pierogi into a freezer bag/container and freeze for up to 3 months.
Cook from frozen. They will take a little longer to come up to the top but once they do continue cooking gently for 4 minutes (as per Instructions). Don't forget to stir them gently to prevent from sticking to one another or to the bottom of the pot. After they've been boiled you can shallow fry your pierogi in a pan if you like.
To freeze cooked pierogi cool completely then arrange them in a single layer on top of a lightly greased plate or tray (the pierogi need to be lightly greased on both sides) and freeze for 4 hours. Transfer into a plastic container and freeze for up to 3 months.
Thaw before reheating these pierogi. Reheat in the microwave or fry with a little butter or oil until golden.
6 pierogi recipes
1.Polish Potato and Cheese Pierogi (Ruskie) Dumplings
This Polish potato and cheese pierogi recipe is a classic Polish dish, popular all year round accompanying celebrations and family gatherings. It's also one of the traditional dishes served on Christmas Eve in parts of Poland.
2. Polish Sauerkraut Pierogi (Kapusta) Dumplings
Sauerkraut pierogi are one of the 12 traditional Polish Christmas Eve dishes but also popular as an everyday dinner idea.
3. Homemade Perogies with Cheddar and Potatoes
Using simple dough, real cheese and creamy potato mash these homemade perogies are deliciously soft and savoury. Step-by-step instructions included.
4. Blueberry Pierogi Dumplings ('z Jagodami')
Blueberry pierogi ('z jagodami') are a popular dish in Poland especially during summer months. They take very little time to make as the filling consists of a single ingredient – blueberries.
5. Easy Polish Meat Pierogi Recipe
Meat pierogi are a classic Polish dish, hearty and simple, loved by children and adults alike. The filling I used in this recipe consists of naturally low fat turkey meat and a handful of pantry ingredients.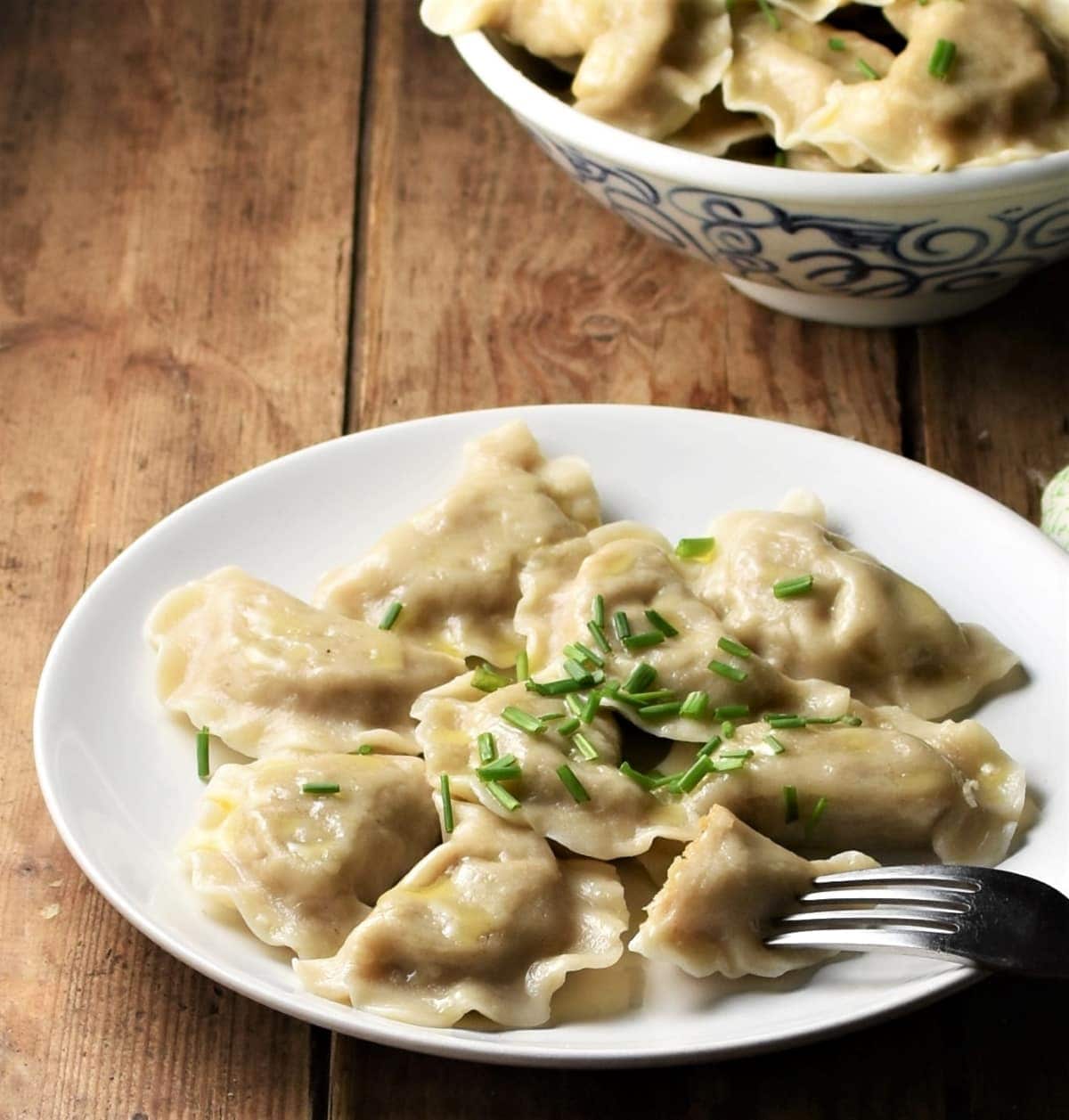 6. Potato and Cheese Vegan Pierogi
Vegan pierogi are high in protein, low in fat, delicious and easy to make. They taste surprisingly similar to the dairy equivalent and are incredibly addictive. This is vegan comfort food at its best!
You might also like 'uszka' porcini dumplings with mushrooms which are also made using pierogi dough.
Keep in touch!
If you make any of these pierogi recipes I'd love to know which one. How did it turn out for you? What's your favourite type of pierogi? Let me know in the comments below, thanks!
Follow me on Facebook, Instagram and Twitter for regular recipe updates! Or you could subscribe to this blog and receive all my latest recipes right into your mailbox!