Polish Christmas Foods centre around traditional meat-free dishes cooked using specific ingredients including sauerkraut, wild mushrooms, fish and poppy seeds. These dishes are served on Christmas Eve, the most important day of Christmas Holidays in Poland. This post contains a collection of traditional dishes which are cooked to celebrate this special evening.
Polish Christmas Foods served on Christmas Eve are filling, simple, rustic and unfussy. They consist of dishes often prepared only once a year, specifically for Christmas Eve. It is important to try each dish, even if only a small amount, in order to ensure good fortune in the year ahead.
What is Wigilia
'Wigilia' in Polish means both Christmas Eve (also called 'Wigilia Bożego Narodzenia') as well as the Christmas Eve meal (which is also known as 'kolacja wigilijna', Christmas Eve supper).
According to tradition, the Wigilia feast should begin as soon as the first star appears in the sky (a biblical reference to the 3 wise men who followed the Christmas Star that led them to baby Jesus).
So, what happens if it's a cloudy day and you can't see the stars? Well, at my house we start the meal sometime between 4-5 pm, depending on how organised we are:)
12 dishes of Polish Christmas Eve dinner
Polish Wigilia should traditionally consist of 12 dishes which originally symbolised prosperity throughout all the 12 months of the year. A more recent interpretation rooted in Christianity is that this number represents the 12 Apostles.
There isn't a definitive list of Polish Christmas Eve foods as different regions have their own traditional Christmas recipes. What these dishes have in common, however, is that they are prepared using similar ingredients: sauerkraut, beets, wild mushrooms, fish, poppy seeds and wheat or other grains. According to pre-Christian beliefs these ingredients bring prosperity, abundance of food and good health for the year ahead, so it's important to serve them all in one form or another.
Polish Christmas Foods
Individual families make different foods according to their own family traditions as well as preferences. Here are some of the most popular ones:
1. Polish Christmas Eve dinner always starts with traditional 'opłatek', a thin wafer that's given to all the people gathered at the table to share with one another and exchange Christmas wishes and blessings for the year ahead. This tradition is observed also in other countries including Lithuania and Slovakia.
Soups
Soup is the first dish served on Christmas Eve and the 2 most popular ones are beet soup and wild mushroom soup.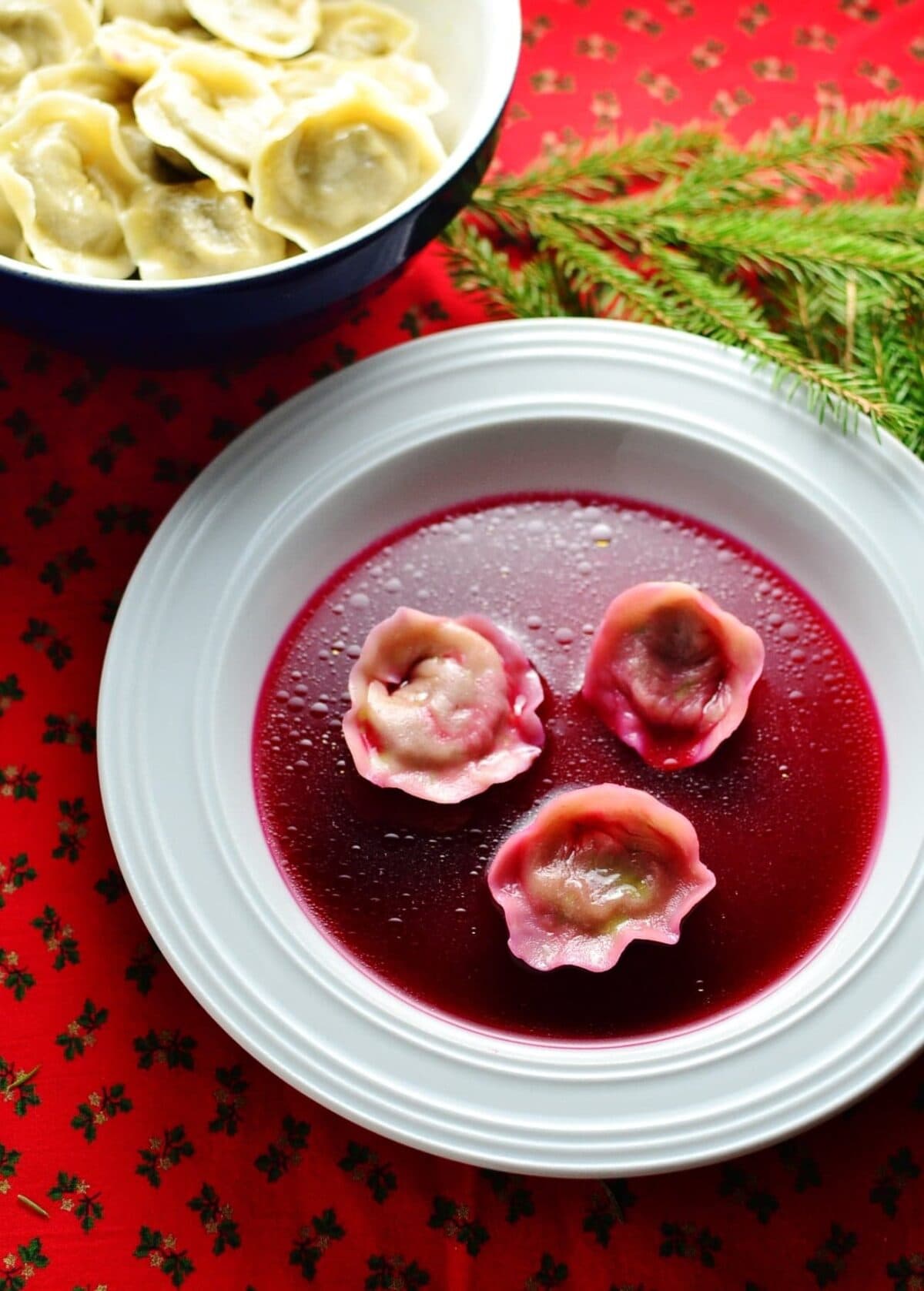 2. Polish Borscht (called 'barszcz') is a clear beet soup ('barszcz czysty' in Polish) served with mushroom dumplings (uszka). It is both sour and sweet, earthy, with a hint of garlic and wild mushrooms.
Polish barszcz is my personal favourite and I couldn't imagine Christmas Eve without it. It's so popular in Poland it is often made without a special occasion and served with Polish krokiety (fried crepes with either meat or mushroom filling – these can also be served on Christmas Eve).
If you go to a restaurant serving traditional food in Poland and order barszcz it is likely to be this type of clear soup (rather than chunky Ukrainian-style borscht) and will be served with some type of krokiety.
3. Polish Wild Mushroom Soup ('zupa grzybowa' in Polish) is usually served with a type of pasta called lazanki and is especially popular in central and northern regions.
Other Christmas soups in Poland can also include fish soup (popular in the north), almond soup or sauerkraut soup (this last one is also eaten all year round and can be made with or without meat).
Fish dishes and salads
These usually follow the soup and are accompanied by bread (which also counts as one of the 12 dishes!). Popular choices include herring and carp.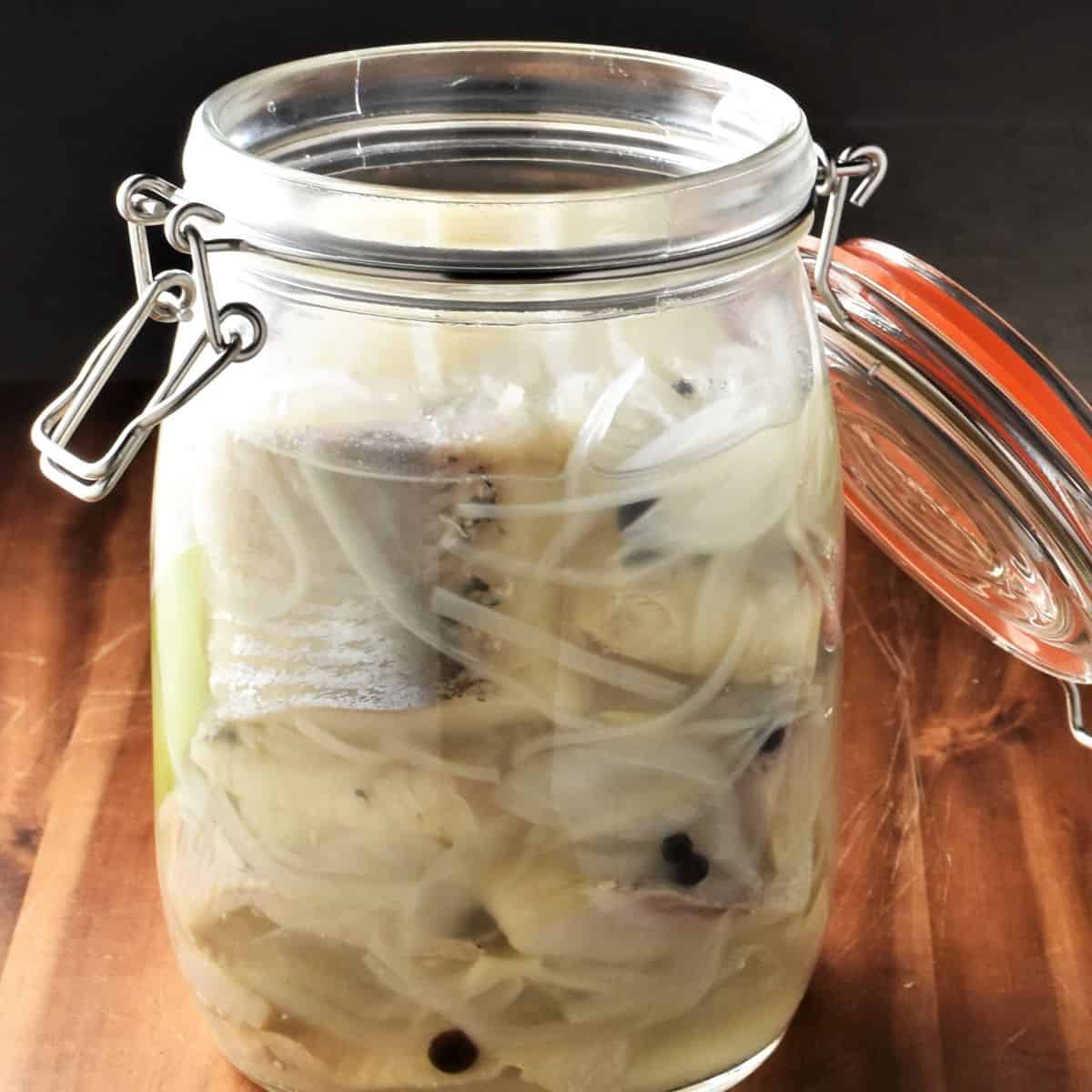 4. Pickled Herring is lightly spiced and comes with a vinegar-based brine (though it can also be marinated in oil). It can be served as it is or combined with onion, sour cream or oil and herbs.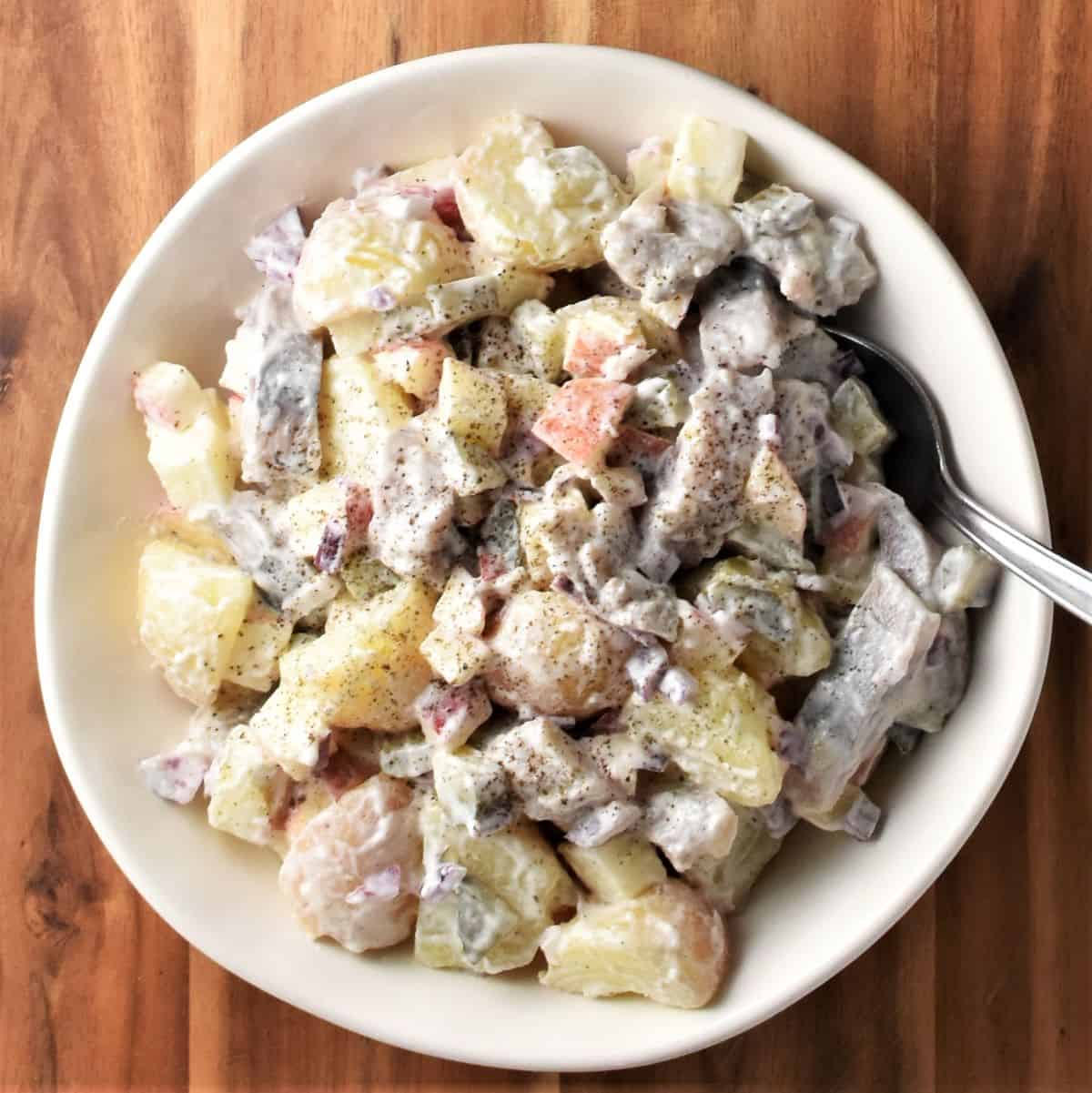 5. Herring Salad is a popular party food dish in Poland, easy to make and full of flavour. It can be made using lots of different ingredients and works well with contrasting flavours and textures, such as crunchy apples or dill pickles/gherkins, boiled potatoes or earthy beets. There are countless herring salad recipes.
6. Polish Fish with Vegetables, called 'ryba po grecku' in Polish (which means 'Greek-style fish') consists of stewed root vegetables served alongside fried white fish. This dish can be served either hot or cold.
Another popular food served on Christmas Eve in Poland is carp in aspic, called 'karp w galarecie'. It consists of pieces of cooked fish in a savoury aspic and is always served cold. (Another traditional Polish aspic recipe is meat jelly which in my family was always served on Christmas Day).
Carp fillets can also be coated in flour, fried and served hot.
7. Polish Potato Salad, 'sałatka jarzynowa', is one of the best-known Polish recipes and certainly not exclusive to Christmas. I always use my mum's recipe and make it with a bit of apple. A similar salad you might also like is potato beet salad.
Dumplings
8. Wild Mushroom Dumplings, called 'uszka', in Polish, are a typical Wigilia dish made specifically to accompany barszcz soup (above). In my family the uszka are always boiled and added hot into the soup (though they can also be fried first).
9. Sauerkraut Dumplings, 'pierogi z kapustą' in Polish, are made with a sauerkraut and mushroom filling. I like to serve them at Wigilia just with melted butter. They are a popular dish in Polish cuisine and can also be served with sauteed onion or bacon throughout the year.
10. Sauerkraut with Mushrooms, 'kapusta z grzybami', is similar to better-known Polish bigos but made vegetarian. It's often served as an alternative to sauerkraut pierogi.
Sauerkraut for Christmas can also be cooked with split yellow peas (this dish is called 'kapusta z grochem').
See also my tips for cooking sauerkraut (includes more recipes!).
11. Cheese and Potato Dumplings, 'pierogi ruskie' in Polish, are made with potatoes and Polish 'twarόg' cheese. They are one of the most iconic traditional Polish foods and Christmas just wouldn't be the same without them!
Like the sauerkraut pierogi, I always serve these dumplings simply with melted butter on Christmas Eve. Throughout the year, however, we also eat them with sauteed onion and/or bacon (as well as sour cream).
If you want to make this recipe dairy free see my vegan pierogi recipe. Other popular Polish pierogi fillings enjoyed at other times of the year include meat, blueberry and sweetened 'twarόg' cheese. See also my tips for making pierogi!
'Sweet' recipes
12. Kutia (or 'kutya') is a traditional Christmas Eve food popular in Ukraine, Belarus, Russia and Poland. It is made with cooked wheat berries, poppy seeds, honey, dried fruit and nuts and is served cold.
A similar 'sweet' dish with poppy seeds and noodles ('kluski z makiem') is a popular alternative to kutia.
Either one of these dishes is likely to be on the Polish Christmas Eve menu.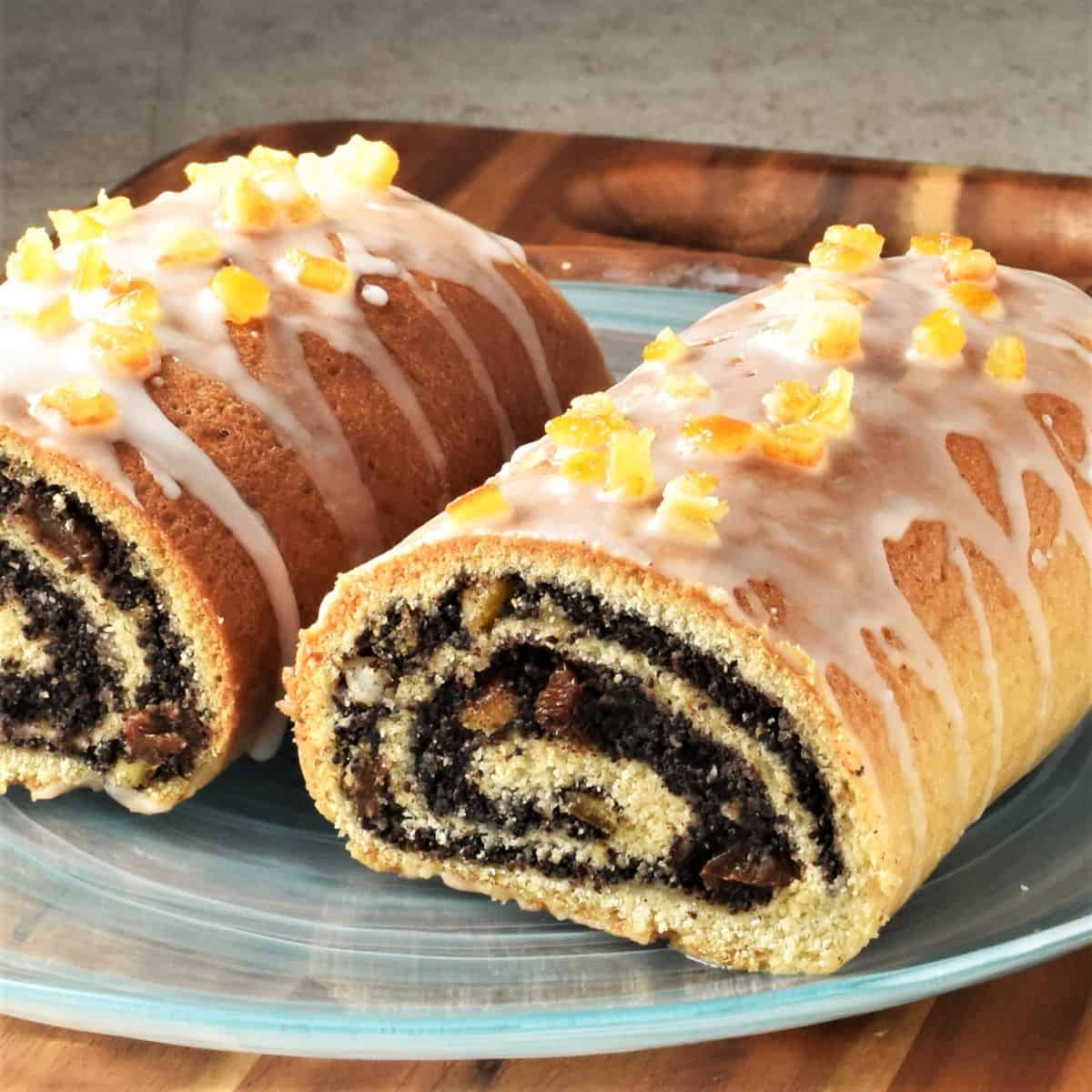 13. Polish Poppy Seed Cake, 'makowiec', consists of yeast-based pastry and a layer of sweet poppy seed mixture rolled together to form a log.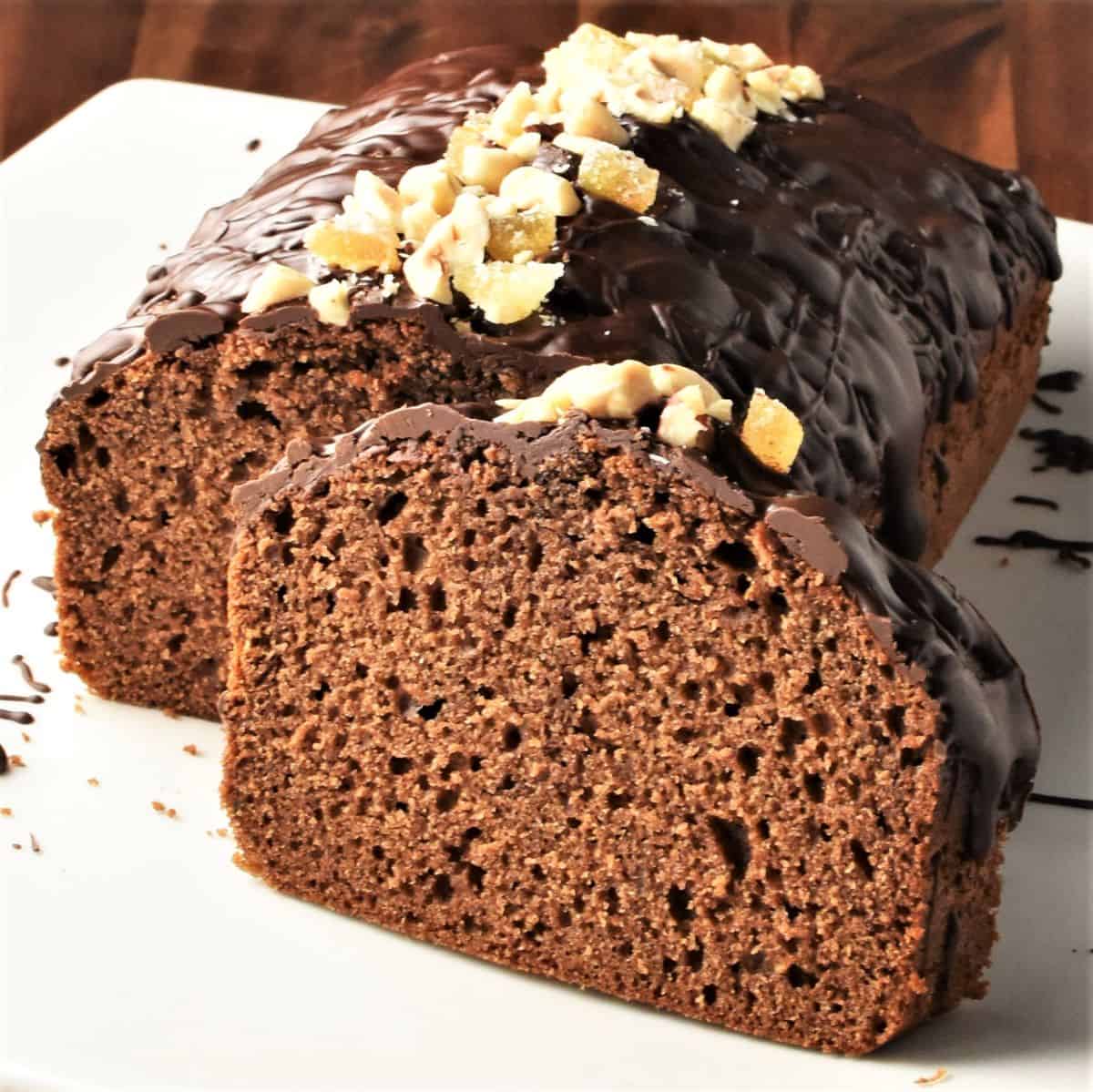 14. Polish Gingerbread Cake, 'piernik', is a deliciously spiced easy festive bake made with honey. Poland has a long tradition of making gingerbread and there are countless versions of piernik: some with chocolate, others with a layer of jam or sugar glaze. A cookie version of piernik is called 'pierniczki' (plural form), also extremely popular.
15. Polish Dried Fruit Compote ('kompot z suszu' or 'kompot wigilijny', which means Christmas Eve compote) is a delicious, spiced beverage served with the Wigilia supper. It is usually made with prunes, apples and pears, spices including cinnamon and cloves, and has a hint of citrus.
See also my recipe for a simple fruit compote!
Other Polish Christmas Eve recipes
Vegetarian cabbage rolls: these can be made with either rice, buckwheat groats, potatoes or barley and wild mushrooms (as in vegan cabbage rolls, though this isn't a traditional Christmas recipe).
Fish balls in sauce.
Lentil pierogi.
Keep in touch!
If you've grown up with Polish Christmas Eve traditions I'd love to know what your favourite dishes are. Are there Polish Christmas foods you or your family make that I have not mentioned in this post? Let me know in the comments below, thanks:)
Follow me on Facebook, Instagram and Twitter for regular recipe updates! Or you could subscribe to this blog and receive all my latest recipes right into your mailbox!
Merry Christmas! Wesołych Świąt!