Eating more vegetables for breakfast is easier than you might think. This collection includes 25 delicious, easy recipes that will help you incorporate more vegetables into your diet. These recipes are perfect for busy adults and fussy children alike.
Eating vegetables for breakfast is a great way of ensuring you get your 5-a-day. Yes, we can eat salads, soups and casseroles for lunch and dinner but that may not always be enough. There are also different groups of vegetables to consider, such as dark green, red, orange or starchy.
In short we should eat a variety of vegetables every day so it makes perfect sense to start with your first meal of the day.
How to eat more veggies for breakfast
Incorporate vegetables into sweet as well as savoury breakfast recipes.
Use seasonal vegetables.
Make them part of your weekend brunch.
Sneak them into recipes your family loves.
Sneak vegetables into breakfast smoothies
Smoothies are a fantastic way of including vegetables in your breakfast routine. They are super quick and easy to make and can use both fruit as well as vegetables. The fruity ones tend to be more popular as they simply taste better! But you can sneak veggies into your fruit smoothies and no one will ever know! Not even your fussy children who turn away at the sight of anything green.
1.Raspberry avocado lime smoothie
This 5-ingredient vegan raspberry avocado smoothie with lime is light, creamy and super refreshing. The smoothie contains lime pulp rather than just the juice and is sweetened with a little maple syrup. Perfect for breakfast or as a snack anytime.
Total Time: 5 minutes.
2. Beet smoothie with cherries
This simple, delicious 4-ingredient beet smoothie contains nutritious, tangy kefir, cherries and prunes for more natural sweetness and creaminess. Enjoy as part of a healthy breakfast or snack anytime.
Total Time: 5 minutes.
3. Sweet potato mango smoothie
Sweet potato smoothie with mango is a delicious way to include more vegetables in your diet. This dairy free, creamy, naturally sweet and zesty smoothie is great for breakfast and beyond!
Total Time: 35 minutes.
4. Spinach berry smoothie 2 ways
These spinach berry smoothie recipes are naturally sweetened and can be enjoyed with or without dairy. Both are refreshing, delicious and made with a handful of ingredients. Perfect for breakfast or as a nutritious snack anytime.
Total Time: 6 minutes.
5. Broccoli smoothie 2 ways (berry and melon)
This post contains 2 dairy free broccoli smoothie recipes that are not only nutritious but also quite delicious. One contains pear and melon, which contribute sweetness creating a light and refreshing smoothie. The other recipe is packed full of delicious berries, which together with a handful of prunes create a rich and creamy smoothie.
Total Time: 10 minutes.
Sneak vegetables into muffins
Muffins can be made with a huge range of ingredients, which can absolutely include vegetables (and still be sweet!).
6. Avocado raspberry muffins with lime
These nutritious avocado muffins with raspberries and lime are full of flavour and colour. They are low in sugar and super easy to make. The avocado flavour in these zesty, delicious dairy free muffins is very very subtle. You'll hardly notice it!
Total Time: 38 minutes.
7. Truly healthy carrot muffins
These healthy carrot muffins are naturally sweetened by a combination of dates and apple juice. They are moist, fluffy and super delicious, perfect as a healthy breakfast or snack both children and adults will love. Ready in just over 30 minutes!
Total Time: 35 minutes.
8. Beet chocolate muffins with chocolate chips
Beet chocolate muffins make a delicious breakfast or healthy snack. They are moist, full of fibre and veggie goodness, low in sugar and super easy to make.
Total Time: 37 minutes.
9. Sweet potato chocolate muffins
These sweet potato muffins with chocolate chips are a delicious way to enjoy more vegetables for breakfast. Made with raw sweet potato, a moderate amount of sugar and plenty of nutritious cocoa these deliciously moist muffins can be enjoyed for breakfast, as a snack or healthier dessert.
Total Time: 38 minutes.
Make savoury veggie muffins for breakfast
This is especially easy to do using seasonal vegetables. Many fruits and vegetables are available all year round but they are most delicious when they are in season. They are also available in all the shops and their prices come down so try to buy seasonal whenever possible!
10. Sweet potato egg cups with cauliflower
These delicious sweet potato egg cups with cauliflower are made using raw vegetables. Packed full of protein and veggie goodness they are perfect for breakfast, brunch or as a healthy snack anytime. Preparation takes minutes!
Total Time: 38 minutes.
11. Healthy breakfast egg muffins (vegetarian)
These healthy egg muffins are made using raw potatoes, asparagus and halloumi cheese. Enjoy for breakfast, brunch or as a healthy snack.
Total Time: 35 minutes.
12. Cauliflower muffins with cheese and chives
These savoury, super fluffy cauliflower muffins are made using cauliflower rice, a moderate amount of cheese, nutritious kefir and fresh chives. They make a delicious snack, lunchbox idea or savoury veggie breakfast.
Total Time: 37 minutes.
13. Quinoa egg muffins with spinach
Quinoa egg muffins with spinach are packed full of protein, fibre and above all - flavour! Perfect as a healthy breakfast on the go or satisfying snack anytime. Ready in just over 30 minutes.
Total Time: 36 minutes.
14. Pumpkin chocolate muffins with buttermilk
These pumpkin chocolate muffins with a hint of spice are a delicious autumnal treat. Full of flavour and veggie goodness these muffins are made using buttermilk as well as cacao and chocolate chips for an extra chocolatey finish. Light and fluffy, ready in just over 30 minutes!
Total Time: 35 minutes.
4. Crepes and pancakes with vegetables
If you enjoy savoury breakfasts, such as eggs or sausages, they can be served with fried mushrooms or tomatoes (i.e. English breakfast). So that's easy. But there are other ways of adding vegetables to a savoury breakfast.
15. Crepes with Spinach and Cheese Filling
These crepes with spinach and cheese filling are a delicious vegetarian brunch idea, easy to make and full of goodness. Prepare the filling in advance and enjoy these crepes pancakes either hot or cold. The post includes tips for making great crepes!
Total Time: 25 minutes.
16. Polish crepes with mushrooms (krokiety)
Polish style crepes with mushrooms are breaded and shallow fried so they are crispy on the outside and deliciously soft on the inside. This recipe is made using pantry staples and comes together in under 30 minutes.
Total Time: 28 minutes.
17. Healthy pumpkin pancakes with buttermilk
Lightly spiced healthy pumpkin pancakes are made using whole wheat flour, pumpkin puree and buttermilk for an extra fluffy consistency. Full of flavour, colour and goodness they make a delicious autumnal breakfast or brunch. Ready in minutes!
Total Time: 23 minutes.
Add a vegetable juice to your breakfast
Juicing is a fantastic way of adding more vegetables to your diet. It's vegan, gluten free so everyone can enjoy it. For me the best flavour combinations involve combining vegetables with fruit for added natural sweetness.
18. Beetroot and carrot juice 3 ways
Combine carrots and beets with other vegetables as well as fruit and create tasty flavour combinations that are packed full of goodness. There is more than one way to enjoy carrot and beetroot juice!
Total Time: 12 minutes.
When it comes to juicing red cabbage is quite adaptable and can be combined with a range of ingredients for a delicious and nutritious beverage.
Total Time: 10 minutes.
Making your own cabbage juice is a great way to include more vegetables in your diet, especially those we don't eat enough of. This post includes 3 delicious, simple flavour combinations you can make using everyday ingredients.
Total Time: 10 minutes.
Vegan breakfast with vegetables
Add vegetables to scones
Scones are typically made using 'sweet' ingredients, such as dried fruit. But semi-sweet or savory scones are just as delicious!
21. Carrot scones with walnuts
These nutritious carrot scones with walnuts are made with yogurt and a moderate amount of sugar. They are crispy on the outside, light and fluffy on the inside, and perfect to pair with either sweet or savoury ingredients.
Total Time: 30 minutes.
These savoury, easy cheese scones with cauliflower rice make a delicious breakfast idea or healthy snack you can pop in your picnic basket or your child's lunchbox. These simple, nutritious scones are ready from start to finish in under 30 minutes!
Total Time: 30 minutes.
Serve vegetables on toast
You can enjoy your morning toast with butter or jam or avocado! Avocado toast is absolutely delicious. It's also very easy to prepare. You can enjoy it on its own, with a bit of seasoning if you are pressed for time. Or you combine it with other ingredients to make it even more delicious.
23. Avocado ricotta cheese on toast
This delicious avocado cheese toast with ricotta is a simple and nutritious savoury breakfast or snack idea that comes together in under 10 minutes. It's high in protein so will keep you full for longer!
Total Time: 10 minutes.
Make bread recipes with vegetables
Similarly to scones and muffins making a no-yeast bread with vegetables is another effective and easy way of getting your family to eat more veggies for breakfast.
24. Fresh spinach quick bread with buttermilk
This no-yeast, no-knead spinach bread is made using fresh spinach, buttermilk for a light, fluffy texture and a moderate amount of cheese for a savoury finish. Perfect for breakfast/brunch, with soup/stew or as a snack.
Total Time: 1 hour 10 minutes.
25. Beetroot bread with walnuts
This quick and easy beetroot bread with walnuts is nutritious, dairy free, and can be enjoyed for breakfast/brunch as well as a healthy snack. It is made without yeast so doesn't require kneading. It's also pretty uncomplicated and you don't need to be an experienced baker to produce a gorgeous loaf!
Total Time: 2 hours 5 minutes.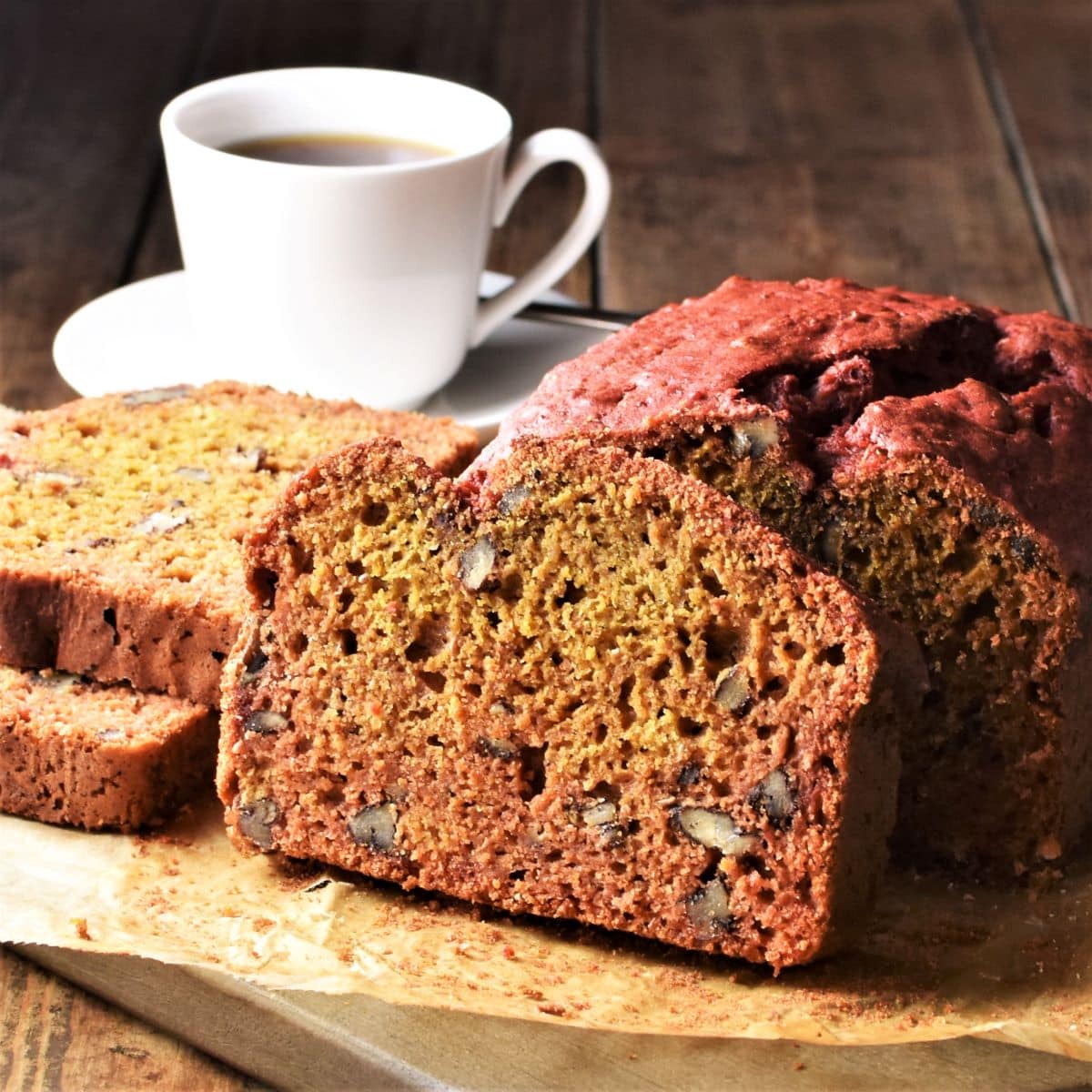 Other vegetable breakfast recipes you might like
Check out also this collection of cacao recipes!
Keep in touch!
If you love veggies for breakfast and have made any of these recipes I'd love to know how they turned out for you. Let me know in the comments below, thanks:)
Follow me on Facebook, Instagram and Twitter for regular recipe updates! Or you could subscribe to this blog and receive all my latest recipes right into your mailbox!